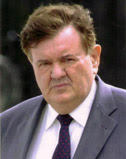 Corporate fraudster Robert Stapleton managed to avoid the authorities over three decades. Now its reported he has been found dead on the street in Brittany after suffering a heart attack.
Read here
. Over the years he had been reportedly visiting his Rathcoole home in County Dublin, despite being the subject of an extradition order and a European Arrest Warrant. Those who met Stapleton described him as a very smart but a very manipulative character. Originally from Kilkenny, he executed a multi-million pound fraud by making up fake export deals for his company Ultraleisure and claiming financial support under a government scheme in the UK. Despite being on the run he also managed to get grant aid in Ireland for a software company as well.
Read previous posts.