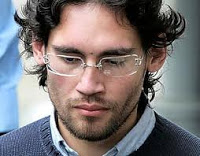 SERIAL globe-trotting conman Juan Carlos Guzman Betencourt has been sentenced to 30 months in a US federal prison. He was caught trying to enter the US illegally from Canada in September 2009. He arrived in north America after finishing a jail sentence in France for credit card fraud. He was extradited back to France after he was released from an Irish jail in December 2006 for talking security personnel into opening a safe for him at the five-star Merrion Hotel - he went on an up-market shopping spree with the credit card he found. The erudite and charming con-artist is portrayed as a modern Frank Abagnale made famous in the movie
Catch Me If You Can.
He can expect more jail time with a number of law enforcement agencies all over the world waiting to talk to him. Then again he has shown himself able to talk his way out of jails as well. Read
previous posts
.