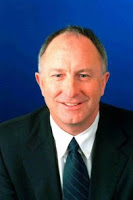 Justice Minister Dermot Ahern made a statement last night on the 'most complex' investigation into Anglo Irish bank . He said 100,000 documents were being analysed and more than 350 people interviewed, but he couldn't say when the probe would be finished.
Read more here at Kildarestreet.com.
Obviously the Minister has noticed the growing anger over the failure to start rolling up the chancers and criminals who took advantage of the Celtic Tiger light-touch culture - hence the statement (and the fact that Alan Shatter asked the question.) Anglo Irish's share price collapsed in March 2008 and two-and-half years later no-one has been brought to account. Surely the time has come to expand or set up a bigger fraud squad that can get stuck into all the dodgy bankers, auctioneers, lawyers and developers. No doubt Bernie Madoff regrets not being based in Ireland.
Read previous post
.
Meanwhile the Public Accounts Committee yesterday unearthed that Matt Merrigan and Jack Ryan of Siptu were in control of the bank accounts used for jollies. The full internal report is available at
thestory.ie
. While the PAC do good work, there's a sense of closing the stable door after the horse has bolted.