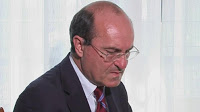 It's amazing to see convicted fraudster and bogus lawyer Giovanni Di Stefano still being described as real lawyer, even if it can be hard to tell the difference sometimes. He was arrested yesterday in Spain on the foot of a warrant from the UK police who want to question him over fraud allegations in which he pretended to be a lawyer.
Read here
.
Di Stefano is a Walter Mitty who has variously claimed to be a multi-millionaire, a important figure in the Balkans War, a Hollywood studio boss among others. He is not licensed to practise as a lawyer in the UK and there is no record of him being a qualified lawyer in Italy despite his claims.
Di Stefano has a number of convictions for fraud and was booted out of the US because of his criminal record. He has claimed to represent some of the world's most notorious individuals, although in some cases that was without their knowledge. In Ireland he claimed he wanted to buy Shelbourne soccer club, a ploy he used in Scotland to raise his profile and to give the appearance of a shaker and mover.
The EU's Judicial Co-Operation Unit previously confirmed he's not licensed to practise law anywhere in the world. Di Stefano is claiming his extradition to the UK is "politically motivated." An Old Bailey judge once described him as "one of nature's fraudsters." The Sunday Times wrote a full profile on him back in 2005,
click here
, which makes you wonder how he still manages to operate.