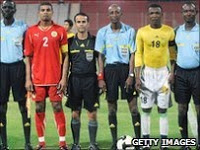 There's been a lot of coverage about allegations of fraud and vote buying at Fifa. One of the allegations include a team posing as the
Zimbabwe national
squad went on a tour of Asia, funded by a gambling syndicate. It's not the first time a fake team has turned up somewhere.
A bogus Togo
(pic right) team played against Bahrain while a fake cricket team turned up in Ireland in a bid to beat immigration controls in 2008. Then there was the
Spanish basketball team
that won gold at the 2000 Paralympics which had ten layers without a disability.