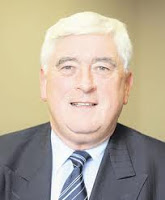 Minister for Enterprise
Batt
O'Keeffe mentioned in passing yesterday that 15 cases of suspected fraud within Irish banking circles are being investigated.
Read here
. The Director of Corporate Enforcement Paul
Appleby
has referred the files to
Garda
Bureau of Fraud Investigation. The revelation came after Fine Gael's Michael
Noonan
criticised the slow pace of the investigations into Ireland's financial meltdown. He might have a point. Bernie
Madoff
is settling into his 150 year sentence. He is one of about 50 Wall Street bankers in the clink where justice and the criminal justice system appears to be a lot swifter.