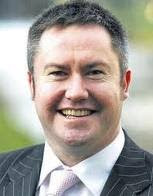 This week more news emerged of how Ireland's rogue lawyers have been operating with impunity for years.
Ruari
O'Ceallaigh
was in the High Court after a Law Society investigation found he had gambled clients' cash on the stock market and used clients' cash to buy his house leaving a €4.3 million hole in the accounts.
Read it here
.
The problem in Ireland is that lawyers don't have to answer to anyone unless something goes wrong and they can't cover up their fraud, negligence or mistakes. It's a real drudge for anyone who tries to take a case to the Law Society which last year dealt with over 1,700 complaints. It's a self-regulating closed shop that needs a boot up the arse.
Here's some other members of the legal profession who have recently gotten into trouble over being given too much trust.
1. Michael Lynn (picture right) - multiple mortgages on several properties costing €80 million.
2. Thomas
Byrne
- multiple mortgages on several properties costing €40 million.
3. Michael Small, Limerick had a secret client account that was €1.25 million in the red.
4. Eamon
Comiskey
,
Portlaoise
, never got around to discharging mortgages on four properties leaving clients liable to pay off the loans.
5. Mary
Miley
,
Wicklow
, got loans worth €1.25 million in her maiden name.
6. Joseph
Traynor
,
Dundalk
, created fraudulent transactions, one worth €7 million and one property seller was left €800,000 out of pocket.
7. Desmond O'Brien, County Clare, struck off this month for 'misappropriating' €119,131 along with other counts of misconduct including buying a €32,000 car with client cash.
8. Michael J Murphy,
Salthill
,
Galway
was struck off in June over 90 counts of misconduct including deducting too much from clients' settlement cash.
By the way if anyone has seen Michael Lynn, drop me an email.