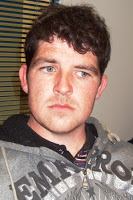 AUSTRALIAN officials stopped a known conman from entering Australia earlier today. Jerry Connors (24) (
pictured top left
) was held by immigration officers when he arrived at Perth at the request of New South Wales Fair Trading. He had been accused of carrying out a number of building work scams in 2011.
A second man was also stopped at Melbourne and served with a number of court summons. Felix Moorehouse (33) (
bottom left
)had been caught and fined over dodgy building work in September 2011. he is now due in Parramatta Local Court on 15 February.
Fair Trading Commissioner Rod Stowe said both men are involved in a gang of Irish travellers 'who have been on the radar of the national travelling conmen taskforce for some years.'
"In 2010, NSW Fair Trading Minister Anthony Roberts established this taskforce and has led a relentless national strategy against travelling conmen and we are determined to continue to track these gangs and hold them accountable for their crimes against vulnerable Australians," said the commissioner in a press release.
Felix Moorehouse left Australia in late 2011 following a raid conducted by Fair Trading and NSW Police in Sydney. Jerry Connors left in April 2012.
The Sunday World previously revealed how traveller traders from Rathkeale had been involved in a scam selling dodgy electrical generators. The affair sparked national headlines across Australia.
Read previous post here.