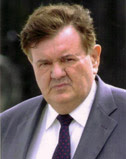 Robert Stapleton recently featured on BBC's Crime Watch programme, listed as one of the UK's currently most wanted.
Read it here
. The now 66-year-old once ran a company exporting fold-up squash courts from the UK. He faked foreign orders to make the company appear very successful and to benefit form export credits. This cash was used to fund the usual extravagant lifestyle. His missus stayed behind to face the music when it came crashing down but Mr Stapleton took off to Spain. He later turned up in Rathcoole, County Dublin for awhile until he finally lost his legal battle against extradition to the UK to face charges. He is now apparently back in Spain, while his Dutch lawyers claim his civil rights have been affected. No doubt, he's just misunderstood. The Irish Indo did a piece on him in 2008,
read here
. If anyone spots him while on holiday, send an email.